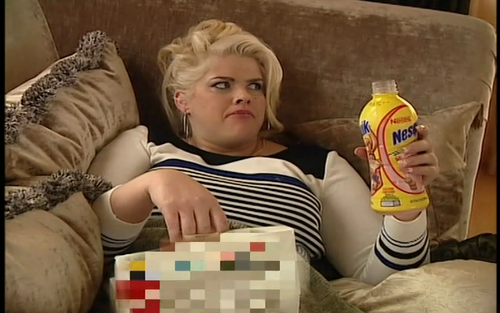 Dear Grief-Stricken Media Junkies,

Today, the world is a bit lighter, after losing our beloved extra juicy pinup: Anna Nicole Smith.

Born Vickie Lynn Hogan on November 28th, in the year of our Lord and Savior 1967, young Vickie told everyone that she would be the next Marilyn Monroe. Her first step to achieve her goal was to marry Billy Wayne Smith, a 16-year-old cook at Jim's Krispy Fried Chicken in her home city of Mexia, Texas, where she worked as a waitress.

Despite a successful reproductive cycle, this marriage, the first of many, was not to be. The 19-year-old had irreconcilable differences with her 18-year-old husband. But she soldiered on. She resigned her position at the chicken shack and moved to Houston, where she embarked on a career at Red Lobster. Still unable to provide for herself and her one-year-old, she took on the added responsibilities of performing at an exotic nightclub. Somewhere during this tenure, Vicki chose to make up in silicone what she lacked in mammary tissue. A choice that would forevermore color her identity, even though her later choice to make up in body fat what she lacked in substance proved less career-oriented.



In 1992, she was chosen to appear on the cover of the March edition of Playboy and her career experienced a paradigm shift. Gone were the days of boiled crustaceans and fried chicken. She was a new woman and needed a new name. And so Vicki Lynn Hogan became, from that day forth, Anna Nicole Smith.

As her public cheered on, Anna Nicole appeared in 7 films, 4 television shows and countless special editions of the magazine that lent her the first microphone. She ate it up. And had dessert. Fortunately, the majority of her growth did not take place until after successfully squeezing into the tightest Little Black Dress in history: the will of her third husband, J. Howard Marshall. But as the pounds rolled into layers and her triceps rivaled those of yours truly, Anna fought back in the only way America knows how: pharmaceutically. Slurred speech and lazy eyes are but a small price to pay for femininity. Besides, since Marshall's will was being hotly contested, Anna knew that she may have had to wiggle into another one.

But then came reprieve. Her nemesis and competitor for her husband's post-mortem affections, E. Pierce Marshall, succumbed to an infection around the same time Anna Nicole succumbed to pregnancy. Nearly 20 years after her last womb workout, Anna would be barren no more. She did everything right. Took her vitamin C, didn't eat raw fish or soft cheeses but unfortunately, massively upped her irony. As her daughter filled Anna Nicole's heart like the joy of that first cocktail on a hot summer day, a more potent cocktail of Zoloft, Lexapro and methadone filled the circulatory system of her 20-year-old son. Ashes to ashes. Drugs to drugs.

The official cause of Anna Nicole's death has not yet been released, but 6 out of 31 dead playmates have causes of death clearly due to drug overdoses, with 6 more via causes unknown. You don't need to work for SPSS to figure out Anna Nicole's killer likely was a cocktail stiffer than her son's.

And so we close the chapter on a determined and upwardly mobile woman, who served her way up the fast-food ladder, broke through the silicone ceiling, stretched her assets to their limits and lent her womanhood to a battle of the wills. She will be remembered as an inspiration to the middle-America from whence she came, demonstrating to every aspiring starlet that they already have the tools to craft success. All it takes is good exposure. Farewell, Anna Nicole Smith. You were a giant.




Sincerely,
LG
LiquidGeneration; http://www.liquidgeneration.com
Mealschpeal; http://www.mealschpeal.com